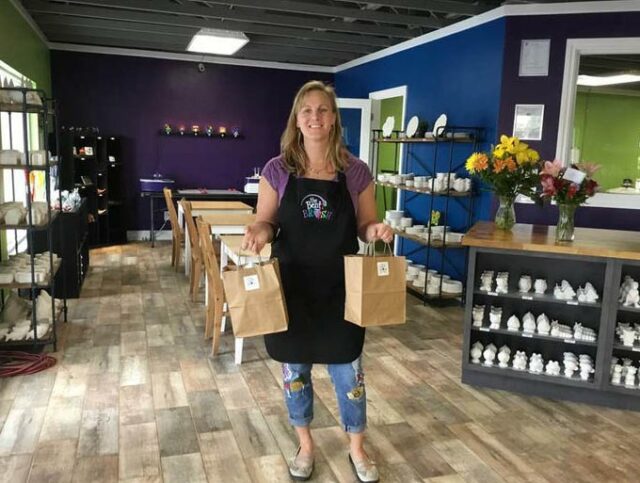 I started The Bent Brush because painting pottery was my favorite hobby. I had a "day job" that wasn't necessarily a creative outlet for me, and I found that going and painting and being creative really allowed me to relax in a way few other activities did. And we've had a lot of customers come in and say exactly the same thing about why they love painting pottery!
I started to think about why we all need creative outlets in our lives, even those of us who don't consider ourselves to be creative. So I did a little research and discovered that it was no accident that painting relieved my daily stresses. Even Psychology Today had an article on how important it is for people to have creative hobbies in their lives! In fact, the study cited in the magazine stated that people who identified themselves as being creative, imaginative, artistic, and innovative had a 12% decrease in mortality risk. Basically that's saying creative people live longer. Here are a few other good reasons to get creative activities into your regular schedule!
Better moods and less depression:

When we give ourselves permission to do what we love, just for the pure enjoyment of the activity, it makes us forget the pressures

of life. That's why doing creative things lifts our mood and makes us happy.

New choices, new ways of looking at things, more possibilities:

Every time we make something new, we embark on a new adventure, going into unknown territory. This allows for the possibility of looking at things a new way and expanding our learning experience as well.

Character building:

By allowing our self to play and expand our creativity, we are cultivating our own self worth, self respect and confidence. It feels great when others see our work and compliment it!

Better problem-solving and brain storming skills:

When we work through something new creatively, we are creating new pathways in our brain, which in turn allows for better problem solving skills when we are at work or at home.

Being present:

When we love what we are doing, we are present in the moment. That's why time flies when you're having fun! In so many ways, when we are being creative it is like being engaged in active meditation! This helps restore balance in

our life.

It allows us to play:

Creative endeavors allow us to play in a way that few other things in life do. And play time is important for stress relief and to give us a break from the pressures of adulthood.
These are just
6 reasons
to do something new and creative today. We encourage you to come up with your own reasons, and then come try out what might become your new favorite creative outlet at The Bent Brush. Whether it's throwing clay on the pottery wheel, painting pottery or creating a fused glass project, we have many ways to flex your creative genius!