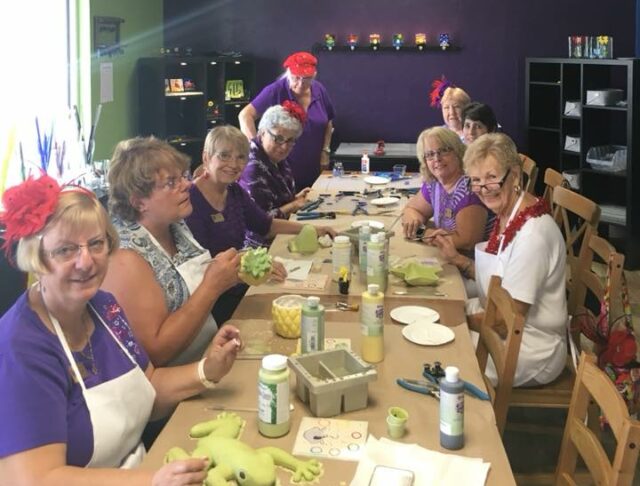 The best business owners and manager know that when employees are engaged, moral and productivity increase in the workplace. How to foster that type of engagement, and a sense of team is not always easy, and that's why managers and human resources professionals work hard to put together the kinds of team building events that foster a better workplace. However, it doesn't work if you are doing the same boring team building events year after year. Those generic conference room or convention center types of events that are so rote, employees have a hard time staying awake at them. This year, think outside the box and consider setting up your team building event at The Bent Brush! Here are some reasons you will love our team building events!
We can help you choose activities and mediums that support specific team building objectives such as effective interpersonal communication, building trust, collaborative problem solving, delegating, project management etc.

No art experience required! Painting your own pottery does not require a lot of skill to turn out something beautiful! We will provide your employees with step-by-step instructions to create something wonderful together!

A new environment stimulates a new way of thinking. Taking your employees to a conference room or convention center is more of the same environment you are in when you're in the office. It does not encourage outside-the-box creative thinking in the same way coming into The Bent Brush studio does. It's simple, a creative environment invigorates your own creativity. So coming to our studio gives your employees a much-needed break from the daily grind. Research studies have confirmed that employees learn best when engaged in fun, creative activities.

Pottery items will be a constant reminder! A few days after the event, you can pick up your employees fired pieces for them to keep in their office as a constant reminder of the lessons they learned during your team building event!

It provides a great photo opportunity to use for public relations, social media, and other positive news about your company. Posting your photos of the event in the staff lunchroom or in the company newsletter is also a great way to remind employees of what they learned. Letting your customers know how devoted you are to your employees is also great publicity, so feel free to use those photos on social media and your website.
We look forward to helping you create a great team building event at The Bent Brush! Give us a call to set up your event soon!